the benefits of GOING Canadian
Forecasts suggest the demand for energy will continue to grow through to 2040 and beyond. As the world focuses on developing sustainable sources of energy, the case for using Canadian oil and gas remains strong. Canada is one of the world's most reliable, regulated and responsible producers in the world. Our energy sector is taking an active part in the energy transition by innovating and evolving to meet the world's needs and address its challenges.
---
WORLD ENERGY DEMAND

The International Energy Agency's World Energy Outlook 2019 forecasts energy demand and greenhouse gas (GHG) emissions under three scenarios: Current Policies, Stated Policies and Sustainable Development. Current Policies is the 'status quo' under existing regulations and Stated Policies assumes that countries meet their reduction targets under the Paris Agreement. Both scenarios suggest growth in demand for oil and gas until 2040. The Sustainable Development scenario envisions a decline in global energy use by 2040 and emission reductions in compliance with the Paris Agreement. Even in this most ambitious scenario, oil and gas will continue to be the most significant part of the overall energy mix. As the world's population grows and we address environmental challenges, environmentally-responsible Canadian oil and gas should play a major role in providing affordable energy to the world.
20 Years
Energy demand will continue to rise while we strive to lower C02 emissions.
Canada: A World Leader

The Canadian oil and gas industry is subject to some of the world's most rigorous regulations. The Environmental Performance Index (compiled by Yale and Columbia Universities and the World Economic Forum) ranks Canada first in environmental responsibility among the top 10 oil producing countries, and third among all oil producing countries. Our energy industry is using technology and innovation to reduce greenhouse gas (GHG) emissions intensity and fresh water use, while restoring our land base. Canada's ability to innovate and develop technology that leads to responsible production means we're poised to make a sizeable contribution to the global demand for oil and gas while addressing the challenges of climate change.

Based on ESG ratings and our reserve base, the EPI ranks us first in the world among the top 10 oil producing countries.
MORE CANADIAN BARRELS ARE
IN THE WORLD'S BEST INTEREST
Aggregated Environmental Social and Governance (ESG) score and reserves of selected oil producing nations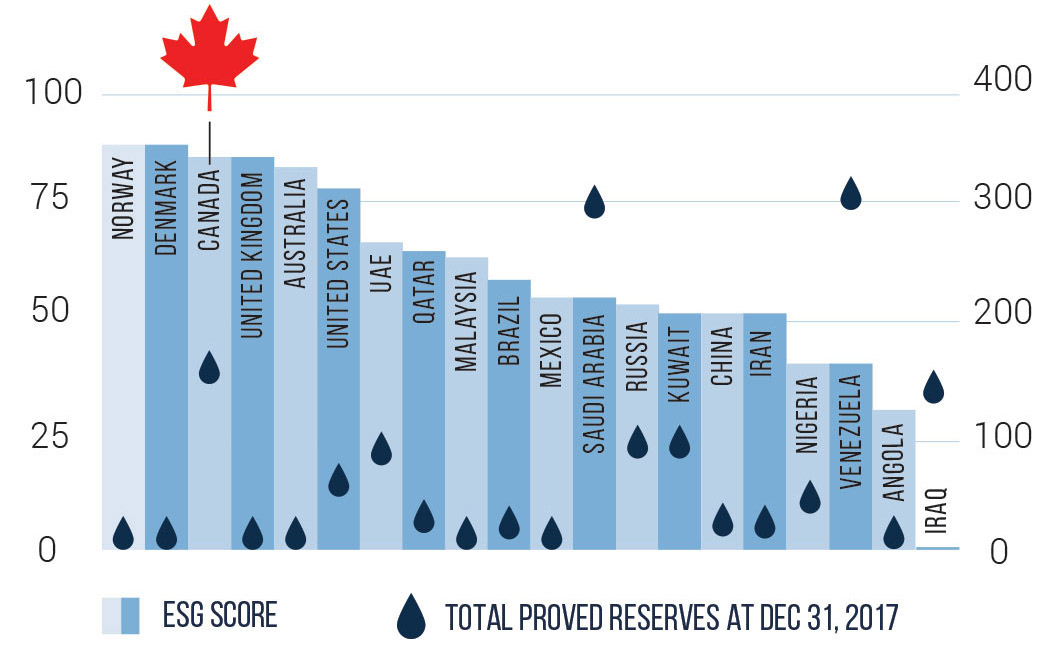 Source: Environmental Performance Index
---
"Innovation and adaptation are not new concepts when you've been at it for over a century-and-a-half. The world needs more Canadian energy in times of vital importance. It always has and always will."
Peter Tertzakian, Executive Director
ARC Energy Research Institute
---
Whitecap: What Responsible Energy Looks Like

Whitecap is a working example of how innovation can transform our energy industry. Our direct emissions per barrel of oil produced is among the lowest of our peers and we operate the world's largest geological carbon sequestration project, the Weyburn Unit. At this facility, we purchase carbon dioxide (CO2) and inject it deep underground to increase oil production from one of Canada's largest crude oil reservoirs, resulting in 1.8 million tonnes of CO2 per year, on average, to be permanently stored rather than emitted to the atmosphere. This exceeds our total corporate direct (scope 1) and indirect (scope 2) emissions. And we don't stop there: we are continually taking concrete actions and investments to bring our emission intensity even lower.
"The development of CCUS technologies hits a triple bottom line – economic growth, job creation and contributing to the reduction of CO₂ emissions."
Jason Switzer, Executive Director
Alberta Clean Technology Industry Alliance (ACTia)
DIRECT EMISSION INTENSITIES